All About Jazz
By JACK BOWERS 
August 8, 2021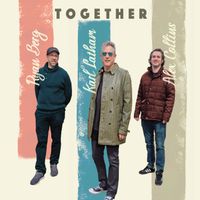 Together—what a splendid title for a piano-led trio whose members work hand-in-glove from start to finish on an album whose music may seem familiar but is approached from various garden-fresh angles and avenues by pianist Alex Collins, bassist Ryan Berg and drummer Karl Latham, who always keep the keynotes ingenious and engaging. Collins, the melodic ringmaster, is an adventurous yet tasteful machine-gunner, spraying notes and phrases with the technical mastery of an Oscar Peterson, while Berg and Latham are ever-ready to receive whatever he has to offer and lend it even more depth and radiance. 
Among the session's strong points is the astute choice of material, five exquisite standards and one lesser-know but no less charming theme, Wayne Shorter's "Night Dreamer." Collins sets the compass on Victor Young & Ned Washington's lovely "Stella by Starlight," his single-note intro falling like gentle rain before giving way to the lustrous melody and a nimble solo by Berg. Latham introduces Arthur Schwartz & Howard Dietz' "Alone Together" and broadens the rhythmic pulse behind Collins' enterprising solo before Berg's voice is heard loudly and clearly. 
Berg frames another splendid solo on the lovely "Green Dolphin Street," the first of two memorable compositions by Bronislau Kaper (the other is "Invitation," which closes the album). Collins is comfortably at home on "Green Dolphin Street," as he is on Richard Rodgers & Lorenz Hart's tender ballad, "Polka Dots and Moonbeams," the first two and one-half minutes of which are his alone for some of the more enchanting observations on the album, preceding heartwarming solos by Berg and Collins. 
"Night Dreamer" is given a bright and forceful reading on which Latham bares his chops, while the normally mild-tempered "Invitation" is taken at a more rapid pace than usual, giving Collins one more chance to show his technical prowess and Berg and Latham reason to adapt to and cushion his divergent maneuvers. If your love of beautiful music is coupled with a passion for awareness, Together should be on your playlist. 
Track Listing 
Stella by Starlight; Fire; Alone Together; On Green Dolphin Street; Polkadots and Moonbeams; Night Dreamer; Invitation. 
Personnel 
Karl Latham: drums; Alexander Collins: piano; Ryan Berg: bass.