alex collins, ryan berg, karl latham
ALEX COLLINS/RYAN BERG/KARL LATHAM 
August 14, 2021 
Together 
Dropzonejazz, 2021 
8/10 
A collaboration between 3 esteemed musicians, Alex Collins, Ryan Berg and Karl Latham turn in some modern interpretations of timeless standards here, where their exciting interplay and no lack of solos make for a technical and adventurous listen. 
"Stella By Starlight" starts the listen with twinkling keys from Collins, as Berg's playfully plucked bass and Latham's restrained drumming guide the frisky jazz climate, and "Alone Together" follows with a quicker pace of flawless dynamics between the trio, where flowing melody invades the precise song craft. 
Halfway through, "On Green Dolphin Street" allows each player to shine in their own radiant light and which swings with much allure, while "Polka Dots And Moonbeams" takes a calmer approach amid much beauty that showcases keys as subtle drumming adds much to the reflective climate. 
At the end, "Night Dreamer", a Wayne Shorter tune, builds into a dizzying and meticulous display of modern jazz prowess, and "Invitation" exits the listen with fascinating finger acrobatics from Collins, though Berg and Latham's contributions won't go unnoticed on the highly intricate finish. 
Let's hope that these 3 aren't done working together, cause their chemistry and arranging skills put a fresh coat of paint on already great tunes, essentially making them even more enticing in their contemporary jazz vision.
Tom Haugen
Alex Collins - Ryan Berg - Karl Latham
"Together"
An album emerging from diverse musical and generational backgrounds, "Together" is an inviting release from renowned drummer Karl Latham and fast rising New York area musicians pianist: Alex Collins and bassist Ryan Berg. "Together" created from live streaming events, presents spirited explorations with creative soaring solos, stunning introductions and constant interplay.
Alex Collins (Piano) 
Ryan Berg (Bass) 
Karl Latham (Drums) 
1 Stella by Starlight 9:19 
2 Alone Together 7:51 
3  On Green Dolphin Street 6:23 
4 Polka Dots and Moonbeams 12:27 
5 Night Dreamer 6:19 
6 Invitation 9:45 
Alex Collins - Alex Collins is a New York City pianist, composer and arranger, performing with Michelle Coltrane; Gerry Gibbs on his #1 record, Weather or Not (2017) and Our People (June 2019). Dizzy Gillespie All-Stars; Lenny White; Lonnie Plaxico,and Ronnie Burrage.  Alex received the Wynton Kelly Jazz Foundation Award for Jazz Achievement (2003). 
Ryan Berg - Ryan Berg has made himself a staple on the New York jazz scene performing with Gregory Porter, Ravi Coltrane, Mark Whitfield, Lindsey Webster, JD Allen, Jeff Coffin, Lenny White, Rashid Ali, Gerald Clayton, Logan Richardson, Roy Hargrove, The Brianna Thomas Band, and Frank Lacy Sextet.  
Karl Latham- Internationally recognized in a variety of musical styles with artists including John Lee Quartet; Bernie Worrell; The Dizzy Gillespie All-Stars; Jerry Vivino; Andy Snitzer; Wolfgang Lackerschmid; Johannes Mossinger; Ali Ryerson and Don Braden/Karl Latham Big Funk. Karl is listed in DrummerWorld "Top" Drummers Lists; Latham/Carniaux/Egan "Constellations" 2016 BMW Welt Jazz Award selection; The Best Jazz of 2013/2015 35th/37th Annual Jazz Station Polls: 2013 Drums: #7 Karl Latham; 2015 Drums: #5 Karl Latham.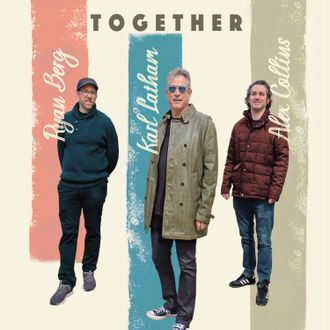 All About Jazz 
Alex Collins/Ryan Berg/Karl Latham: Together  
By JACK BOWERS  
August 8, 2021  
Together—what a splendid title for a piano-led trio whose members work hand-in-glove from start to finish on an album whose music may seem familiar but is approached from various garden-fresh angles and avenues by pianist Alex Collins, bassist Ryan Berg and drummer Karl Latham, who always keep the keynotes ingenious and engaging. Collins, the melodic ringmaster, is an adventurous yet tasteful machine-gunner, spraying notes and phrases with the technical mastery of an Oscar Peterson, while Berg and Latham are ever-ready to receive whatever he has to offer and lend it even more depth and radiance.  
Among the session's strong points is the astute choice of material, five exquisite standards and one lesser-know but no less charming theme, Wayne Shorter's "Night Dreamer." Collins sets the compass on Victor Young & Ned Washington's lovely "Stella by Starlight," his single-note intro falling like gentle rain before giving way to the lustrous melody and a nimble solo by Berg. Latham introduces Arthur Schwartz & Howard Dietz' "Alone Together" and broadens the rhythmic pulse behind Collins' enterprising solo before Berg's voice is heard loudly and clearly.  
Berg frames another splendid solo on the lovely "Green Dolphin Street," the first of two memorable compositions by Bronislau Kaper (the other is "Invitation," which closes the album). Collins is comfortably at home on "Green Dolphin Street," as he is on Richard Rodgers & Lorenz Hart's tender ballad, "Polka Dots and Moonbeams," the first two and one-half minutes of which are his alone for some of the more enchanting observations on the album, preceding heartwarming solos by Berg and Collins.  
"Night Dreamer" is given a bright and forceful reading on which Latham bares his chops, while the normally mild-tempered "Invitation" is taken at a more rapid pace than usual, giving Collins one more chance to show his technical prowess and Berg and Latham reason to adapt to and cushion his divergent maneuvers. If your love of beautiful music is coupled with a passion for awareness, Together should be on your playlist.  
Track Listing  
Stella by Starlight; Fire; Alone Together; On Green Dolphin Street; Polkadots and Moonbeams; Night Dreamer; Invitation.  
Personnel  
Karl Latham: drums; Alexander Collins: piano; Ryan Berg: bass. 
ALEX COLLINS, RYAN BERG, KARL LATHAM – "TOGETHER" – DropZoneJazz Records 
Alex Collins, piano; Ryan Berg, bass; Karl Latham, drums. 
There's nothing quite like 'trio music' when the players are as creative, talented and inspired as these three musicians.  On the well-loved tune, "Stella by Starlight" they open sweetly like a music box.  Soon, the spotlight turns to the bassist, Ryan Berg.  He basks in the light and thoroughly entertains us on his upright instrument.  When Alex Collins enters on piano, both his solo and style are stunning and unusual.  I am captivated by his approach on the piano and the freedom he exhibits, with Karl Latham slapping the drums into high gear to perpetuate the excitement.  Sometimes it sounds as if two pianists are playing instead of one.  Alex Collins is extremely gifted. 
Drummer Karl Latham has produced this session.  Karl is listed on the DrummerWorld 'Top' Drummers List.  He is also the Recording Engineer on this project.  The clarity he captures is wonderful.  His talents are prominent and exploratory on "Alone Together" a song usually recorded as a pensive ballad.  In this case, the trio has double-timed the arrangement and the tune streaks by on humming bird wings.  Latham takes a long and inventive drum solo on this piece, until the time resolves, slowing down to wrap us in a warm, somewhat classical piano arrangement.  The creativity presented by this trio is dynamic and much appreciated. 
Ryan Berg opens "Green Dolphin Street" setting the groove with his double bass, offering a rich, provocative tone.  Berg has performed with Gregory Porter, Mark Whitfield, Lindsey Webster, JD Allen, Lenny White, Gerald Clayton and more.  He's a bass staple on the New York City jazz scene. 
Alex Collins is a composer and arranger, as well as a uniquely talented pianist.  He's performed with Michelle Coltrane, Gerry Gibbs, The Dizzy Gillespie All-Stars, Lennie White and in 2003, Collins received the Wynton Kelly Jazz Foundation Award for Jazz Achievement. 
When you combine these three exceptionally talented individuals, you get an opportunity to hear what the perfect jazz trio should sound like, under the best of circumstances.  This is an album I will enjoy time after time, year after year, always discovering something fresh and exciting to please my jazz palate.  Their music is absolutely delicious!