Music Reviews 
By Dick Metcalf, editor, Contemporary Fusion Reviews 
June 30, 2021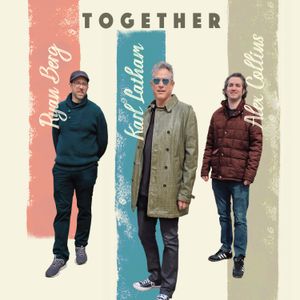 Spirited soaring diverse jazz Alex Collins, Ryan Berg, Karl Latham – TOGETHER:  Your ears are going to find the recording quality on this album hard to believe, but I can tell you right now that this is one of the most spirited, soaring and diverse jazz sets I have listened to (yet) in 2021… first, I recommend you watch their split-screen video for the opener, "Stella By Starlight"… 
As you saw, these cats REALLY have a love of playing together… you'll want to make sure you SUBSCRIBE to the Karl Latham YouTube channel, too, where you can find many more exciting performances. 
You'll hear Alex Collins playing piano, Ryan Berg on bass and Karl Latham does drums; from a "purely jazz" perspective, their performance of Wayne Shorter's "Night Dreamer" is the hippest song you'll hear this year… unique talent and ultra-energy make this piece one that jazz DJ's across the globe will be plugging into their playlists for a LONG time to come! 
"Alone Together" demonstrates the trio's superior "pacing" ability… every note is an adventure full of the sonic delight that comes from truly playing together… in fact, I haven't heard a band this tight in many years. 
It was easy to make my choice for personal favorite of the six long performances offered up… their performance of "On Green Dolphin Street" stands out as the best for that tune that I have EVER heard… very unique and sets the trio apart from all the others! 
I give Alex, Ryan and Karl a MOST HIGHLY RECOMMENDED rating, with an "EQ" (energy quotient) score of 4.99.  Get more information on Karl's website.       
Rotcod Zzaj