Martin Pizzarelli Quartet Tribute to Bucky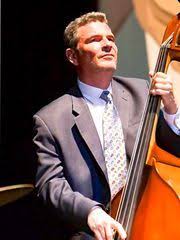 Thursday, July 8, 2021 at 8:00pm 
Rain Date: Friday, July 9 at 8:00pm 
Bassist Martin Pizzarelli put together a special program of hand-picked tunes that pays tribute to his father, guitar legend Bucky Pizzarelli. A member of New Jersey's first jazz family, Martin's own impressive career as a bass player spans several decades and includes dozens of record dates and hundreds of concerts around the globe in various formations, often accompanying his father. Among his peers, he is considered one of the most swinging bassists on the scene and a "keeper of the flame" who masters the style like no one else today. 
Linus Wyrsch – sax ,clarinet 
Hyuna Park – piano 
Aaron Weinstein – violin 
Martin Pizzarelli – bass 
Karl Latham - Drums
Tickets: 
All blocks are $50 for an 8'x8′ block which accommodates up to 2 patrons. Patrons are welcome to arrive as early as 6:30PM to set up and enjoy the evening sun. 
Buy a package of eight or more concerts and get early access seasonwide! All processing fees are waived for package buyers. 
Groups that are purchasing five or more blocks for one performance will also have advance access and the option of having a designated pre-performance area to host a reception. 
Click here to purchase tickets online. 
To purchase tickets over the phone, call the box office at 973-971-3706.