by Dee Dee McNeil / 
ALEX COLLINS, RYAN BERG, KARL LATHAM – "TOGETHER" – DropZoneJazz Records 
Alex Collins, piano; Ryan Berg, bass; Karl Latham, drums.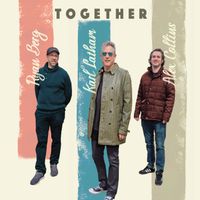 There's nothing quite like 'trio music' when the players are as creative, talented and inspired as these three musicians.  On the well-loved tune, "Stella by Starlight" they open sweetly like a music box.  Soon, the spotlight turns to the bassist, Ryan Berg.  He basks in the light and thoroughly entertains us on his upright instrument.  When Alex Collins enters on piano, both his solo and style are stunning and unusual.  I am captivated by his approach on the piano and the freedom he exhibits, with Karl Latham slapping the drums into high gear to perpetuate the excitement.  Sometimes it sounds as if two pianists are playing instead of one.  Alex Collins is extremely gifted. 
Drummer Karl Latham has produced this session.  Karl is listed on the DrummerWorld 'Top' Drummers List.  He is also the Recording Engineer on this project.  The clarity he captures is wonderful.  His talents are prominent and exploratory on "Alone Together" a song usually recorded as a pensive ballad.  In this case, the trio has double-timed the arrangement and the tune streaks by on humming bird wings.  Latham takes a long and inventive drum solo on this piece, until the time resolves, slowing down to wrap us in a warm, somewhat classical piano arrangement.  The creativity presented by this trio is dynamic and much appreciated. 
Ryan Berg opens "Green Dolphin Street" setting the groove with his double bass, offering a rich, provocative tone.  Berg has performed with Gregory Porter, Mark Whitfield, Lindsey Webster, JD Allen, Lenny White, Gerald Clayton and more.  He's a bass staple on the New York City jazz scene. 
Alex Collins is a composer and arranger, as well as a uniquely talented pianist.  He's performed with Michelle Coltrane, Gerry Gibbs, The Dizzy Gillespie All-Stars, Lennie White and in 2003, Collins received the Wynton Kelly Jazz Foundation Award for Jazz Achievement. 
When you combine these three exceptionally talented individuals, you get an opportunity to hear what the perfect jazz trio should sound like, under the best of circumstances.  This is an album I will enjoy time after time, year after year, always discovering something fresh and exciting to please my jazz palate.  Their music is absolutely delicious!